Advertising in public wifi networks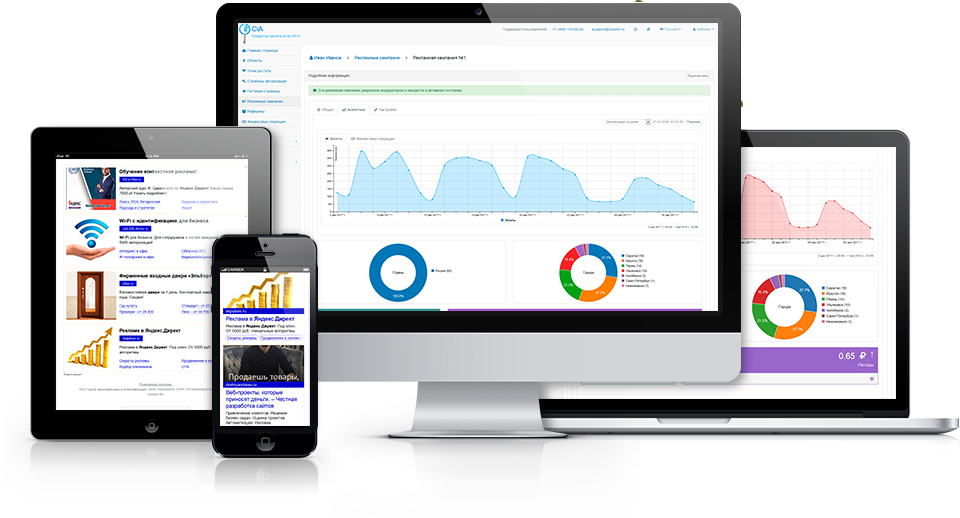 In the modern world, Wi-Fi in shopping Mall, restaurant, or hotel - is not uncommon. Almost every enterprise strives to attract new visitors free access to Wi-Fi. According to studies, we all are approaching the time when the majority of global traffic across the Internet to transmitted over the wireless channel.
Wi-Fi network can be used as a very effective tool for the provision of advertising. This can be any advertising information, for example the banner of the beauty salon, or information on discounts and promotions of the shopping Mall. Advertising, which is shown in this way - it is 100% guaranteed viewing by users due to the fact that the content is broadcast directly to the device a potential client during his activity.
How does it work?
You set up an advertising campaign in the self-service system.
Users browsing promotional materials.
You get new clients.
The advantages of advertising on Wi-Fi network
High efficiency. Exclusively alive and active audience of the Internet.
Target. Filtering inappropriate audience for broadcast advertising materials.
Direct contact. Guaranteed viewing advertisements.
The lack of costs. The absence of financial costs for development of promotional materials.
Accounting and control Comfortable and functional control panel.
The cost and connection
The cost of advertising is calculated individually for each advertiser and depends on many factors such as region, type of hosted content and availability of competitive offers.
To advertise in the Wi-Fi network, it is necessary to pass simple procedure of registration in the self-service system.
---
See also: